Florida Judicial Wellness Program – Monthly Well Talks
Available for all judges
Meets on the 4th Tuesday of every month 12:15 p.m. to 1:15 pm. EST
Meetings are hosted by an assigned Judge and a featured speakers.
Meetings are designed to discuss issues related to the wellness of judges – individually and professionally
Participating judges need not use their name and may use a voice changing app if desired
Call the Florida Judicial Wellness Program Confidential Hotline at 888-972-4040 for with any personal or confidential matters for which you may need immediate attention or assistance.
Meeting Details*
Join the meeting from your:
Computer or tablet: https://us02web.zoom.us/j/82575531041?pwd=TXM2YlBuTCtPb05xa042WGJ1Q3JTdz09
Or
Smartphone : Call (929) 205 6099 | Access Code: 825 7553 1041 – Password: 514291
*These are not 12 step meetings. Should you need assistance locating a 12 step meeting in your area, please call FJWP 24 hour hotline 888-972-4040.
Support Groups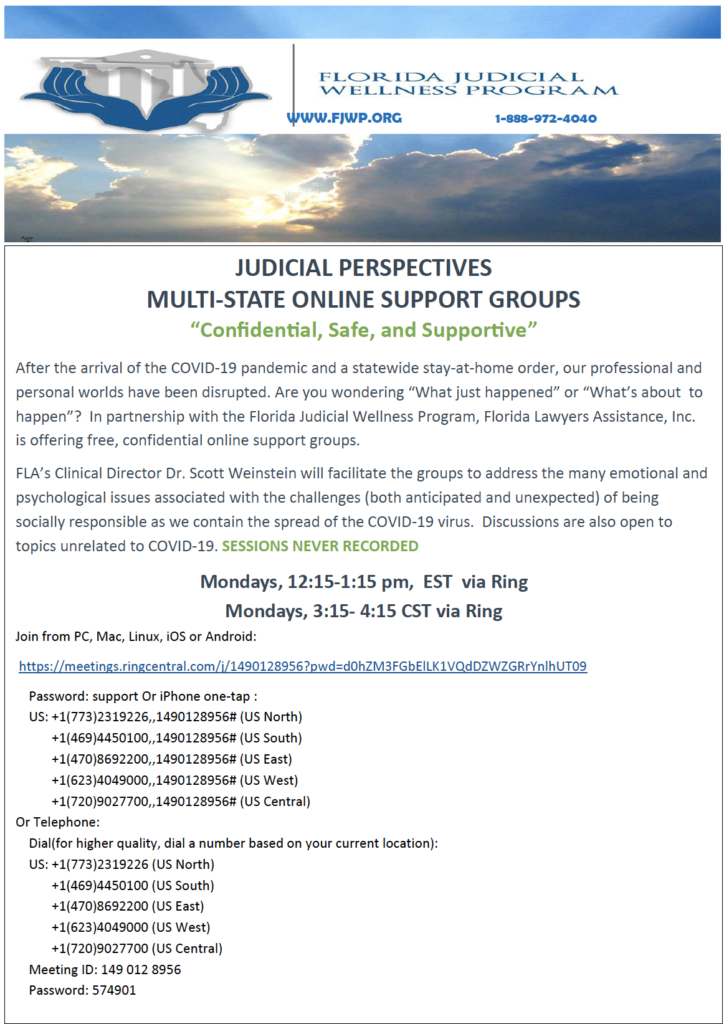 There are no upcoming events.